Wharf-to-Wharf 2002

We got up before 6 am to get to Bonnie's house by 7. There, we met Sandy and Barbara. We stopped in Los Gatos to pick up Pat on the way to Santa Cruz. The six of us (Mary and me, too) ran a pleasant 10k from the Santa Cruz Wharf to the Capitola Wharf. There were many bands along the way - Bagpipes, Brass, Bluegrass, and of course, Rock and Roll.
I used the event as a Zone 1 training run: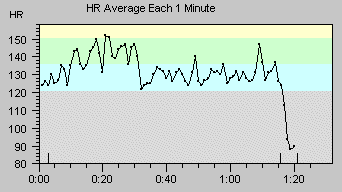 We picked up our goody bags at the finish and waited in the shuttle bus line for the ride back to the start.
After hiking the rest of the way to the cars, we began to picnic on the fabulous food that Bonnie brought: Champagne and OJ for mimosas, focaccia bread, chicken, roast beef, tomatoes, lettuce, and two kinds of cheese for sandwiches. Topping it all off was the fruit salad, grapes, cookies, and fresh picked blackberries. We ate in the backyard of a friend of Pat.
Oh, Barbara, Mary and I found a photo booth in our travels:


OK. I'm tired now.
Bob