We almost didn't make the trip up to Tahoe this weekend. The forecast was for +10C high temperatures. We had escaped the previous weekend as rain sprinkled the area and didn't look forward to mushy snow.

As it turned out, the conditions were spectacular, although rather spring-like. The +10C highs weren't as bad as we had feared. Anywhere that was exposed to the sun was a bit slushy by 1pm, but that didn't significantly diminish our fun.

This picture is of Mary on the Silver trail at Tahoe XC.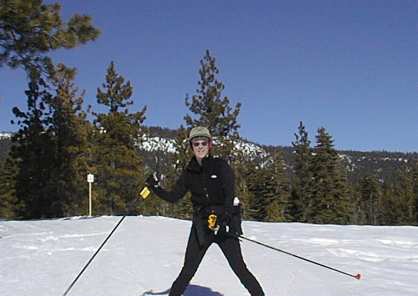 This is the plot of my heart rate over the race period. You can see the downhill sections (where my HR drops), especially the long glide down the Gold (starting at 0:48) and Red (0:53) trails of Tahoe XC.

Despite my last finish in my division, I'm happy with my performance. I skied faster than I've ever skied (over 15k/hour) and only fell once (a real base-over-apex at about 0:49). I stopped 3 times on the climb up the Gold trail, but never for more than 10 seconds. I didn't push myself too hard in the first 30 minutes of the race, so I was able to pass several people in the last half.

One of the people who share our ski cabin is Byant Tolles. He finished 10th overall (3rd in his division).
Congratulations, Bryant!