This year, our holiday week began with 20k of pleasant skiing at Tahoe Donner XC with Leland (Lone Clone Cabin mate). The camera batteries failed, so I haven't any photos from that first day, but here are a couple from the next day at Tahoe XC.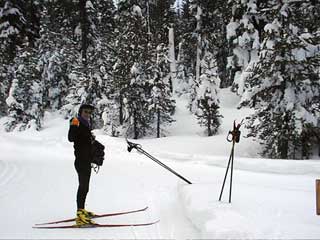 I got some striding in while Mary skated. Conditions were fabulous. Here we are after finishing a couple of oranges on the Orange trail. Wow, how did that happen?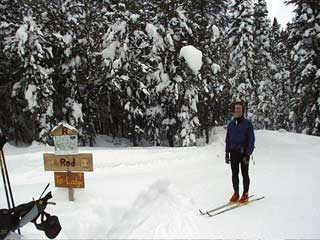 After a leisurely Christmas breakfast of raisin bread french toast, we skied a half day at Royal Gorge including dramatic views of the coming storm from Satellite.

For dinner, we made steak with mushroom sauce and fried shallots, steamed broccoli with aged balsamic dressing, and garlic mashed potatoes. We opened presents and ate desert of ginger bread muffins topped with whipped cream. Mmmmm mmmm good!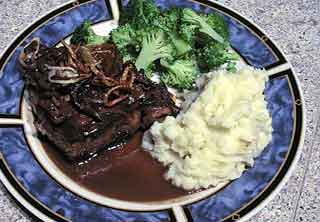 Check out the really cool icicles that formed over the deck. Some are almost 4 feet long. I took this picture before the weather warmed up causing them to fall (loudly).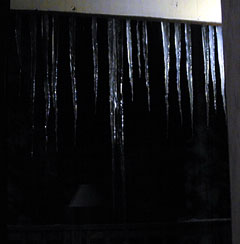 It started to drizzle Thursday, so we went into Truckee and had a fabulous lunch at Dragonfly. Bob had the Seared Ahi salad with avocado and wasabe dressing. Mary had the Chinese soup bowl with chicken and tempura vegetables. We split a chicken satay appetizer and warm chocolate cake desert.

Later, I bought a "twilight" trail pass at Tahoe Donner XC and spent almost 2 hours skiing into the wind on White Lightening, Dogs in Space, Crazy Horse, Boot Hill, Sundance, Rolling Thunder and Rough Rider as an inch or two of snow fell.

Bob plans to ski a race in a couple of days, so the traditional toe-nail painting began... This is Mary adding a clear coat to Bob's nails. The color is called "Pink about it!".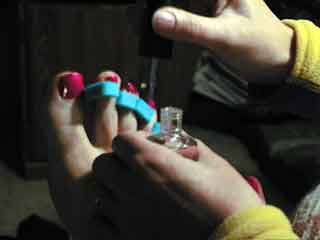 Friday's weather turned even worse: rain and 25+ mph winds. Mary and Bob stayed in the cabin and watched Martha Stewart, James Bond, and Graham Kerr. Bob tried to decide on a glide wax for the race on Saturday. We ate leftovers of ribeye steak, ginger scallion fetuccini, mashed potatoes and split pea soup. I finally decided on a Rhode Red (low flouro content 0 to -4C) as the best thing for the predicted conditions. I was close enough.
Bob and Leland each got out of bed around 6am to prepare for the Snowshoe Thompson 10k Classic race at Auburn Ski Club.Each with his own pre-race ritual (coffee and oatmeal for Leland; espresso, Grapenuts cereal and painted toenails for Bob) they prepared like wariors for battle.

Ok, not really. Yeah, that's what we ate, but we sat around and joked about the weather and each prepared some breakfast for their companions. At 7:45, we loaded up Leland's truck with skis and drove over to Auburn Ski Club. There, we registered for the race and I watched as Leland guessed what the snow condiktions might be at race time, and waxed accordingly. Then, we skied part of the course, and I convinced Leland that he wasn't getting good glide from the klister he was using. So, back to the wax room, I watched as Leland scraped off the grip wax he had applied just 45 minutes before and applied a new color of klister. Don't you just love waxless striding skis?

Except for nearly exiting the course at the very start, I skied a clean race (no falls) and very fast for me. Too bad that everyone else skied fast too. I came in behind Leland (in my age division) at 43:12 for the 10k race. The average time for the top 3 finishers in my division was 30:04 so my time was 44% slower than the average top 3. Given my limited experience striding, I consider this a good finish. Plus, I beat one guy in my division! Wooo heee! What more could I ask for?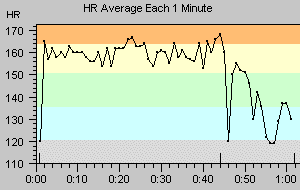 This is my heart rate during the race and the cool down lap afterwards with Leland. I'm pretty happy with it, but I should have taken it a little slower at the beggining and a little harder at the end. The HR averages 162bpm: this is my LT-5. My goal is to average closer to LT. I might have been able to do this if I had gone out slower at the start.
More importantly: my technique sucked. I missed quite a few kicks because I didn't transfer my weight fully to my kick ski. I scrambled up the hills using a herringbone instead of striding. Proper balance and weight shift would have improved my efficiency (and time). (My excuse is that I have very little experience striding - it's important to have a good excuse ready for the occasion)
One interesting feature of the HR graph is that you can see the similarities between the first and second laps (it was a 5k course that we skied 2 times). The same peaks and valleys are visible from minutes 12 to 20 as in minutes 36 to 44.