Wildflower 10k run 2003
I love this race.

It's small (around 150 people run it) so I can run at my own pace.
It's flat ... so I can run my own pace.

My intended pace was 7:30 / mile so that I could get under 45 minutes for the whole 10k...

My actual splits were:
7:24, 7:50, 8:02, 8:04, 8:01, and 7:48

Oh well... I ran the best race I could.
I spent most of the time drafting a taller female runner.
I felt a little bit bad about passing her after the 5 mile mark, but, hey, that's what race strategy is all about; right?

The heart rate graph is below. The amazing thing is that I was able to maintain an average of 170 for the 10k (ignore the 168 - that includes the cool down) and I hit 181 at the finish. Shocked and odd.

I thought my LT (Lactate Threshold) was between 165 and 167 (based on previous races) but it appears that it's up at 170. Maybe I was wrong before, or maybe I've increased it... At any rate, I ran this race 10 minutes faster than I did last year.

To what do I owe my improvement, you ask?
XC ski season is over (or is it?.. heavy snow fell this weekend in the Tahoe area...) so I had several days of rest preceding the race
only one beer the day before
carbo and water loading the day before
grape nuts, a banana, and espresso for breakfast
a packet of Gu (100 kcal of maltodextrin, fructose, and other stuff) 20 minutes before the race - sugar is a good thing!
TRAINING! I ran about 30 miles a week this last summer.
The disappointing thing is that I wasn't going a little faster. Next year...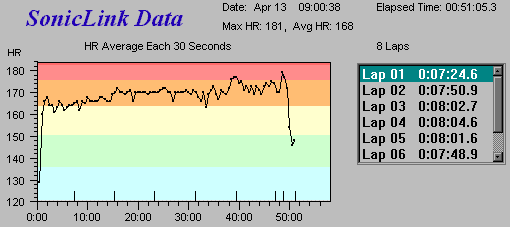 I came home,
showered,
ate,
and went to an Orienteering competition in the afternoon.
I didn't run any O courses - instead I did a mini-rogaine: I helped pick up the controls after the competition.
it was a good Sunday.