It was a beautiful 9 am in the hinterlands (Morgan Hill, CA) when the race started. We set the alarm for 6:30, got up at 6:45 (well, 7 am, for me) and drove to the Live Oak High School in Morgan Hill. The race started promptly at 9 (you gotta like that), and Mary and I started out at our intended race paces.
Soon, I found myself running with "Diane". Diane and I needed each other to keep us on pace. Well, actually, I was watching my HRM to keep it between 145 and 150, and Diane running at my pace. As we ran, Diane told me about her upcoming competition in the Senior Olympics in (of all places) San Jose, CA. We swapped racing stories for 40 minutes until I began my "kick".
Now, to more serious runners, a "kick" takes you from a 8 or 7 minute pace down to a 6 or 5 minute pace. For me, the "kick" means going from a 10 minute mile pace to 9 minute pace. By my watch, my finishing time was 58:38.8.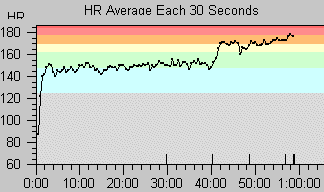 As you can see form my HR plot, I ran this race exactly on pace (for me). I maintained a nice even HR below 150 for the first 4 miles and "opened it up" to 173 for then next 2 miles. The final 300 yards, I ran hard (near 7 minute pace) and sustained 176 bpm crossing the finish line.
After stuffing a few orange slices and bananas in my face and downing a bottle of water, I jogged over to the T-shirt area to claim my purple Wildflower '02 commemorative apparel. I trotted back to the finish line just a minute too late to see Mary cross the line. Mary finished in 1:06:00

We both spent a few minutes chatting with fellow runners (Angie Young) and stretching before walking back to the car and driving home.

The rule around our house is:
Expend 600+ kcal in around an hour, and you get a free pass to be a slug for the rest of the day. Mary and I redeemed our passes with a vengeance.
So, why didn't I finish under 55:00 as I had hoped? Well, here are my excuses:
I didn't pick up the pace until mile 4. It's hard (for me) to run 2.1 miles in 14 minutes. I should have moved up to 9 minute pace earlier.
I didn't abstain from alcohol the day before. In fact, I had a couple of beers at the Cyberrays game and more to drink at Suzanne's 40th birthday party the night before. Booze appears to have a significant effect on my endurance (duh!).
The race was on paved roads. My knees started to act up at mile 3. Pain sucks.