The Jungle run half marathon and 10k

It was a gorgeous October morning in Los Gatos.
Mary ran the 10k.
I ran the half marathon.

Both races started at the same place and time: next to the Los Gatos High School track at 8am. After navigating the speed bumps in the LGHS parking lot, the course curved up a rather steep hill. On the rolling terrain of the first mile, I tried to keep my pace down. As I reached the first mile marker, I saw that I had gone out a minute faster than my intended pace (8:15 miles) $@##&% !!!

The next couple of miles included some sweeping downhill curves. Again, I tried to keep my speed in check, but alas, I was still running too fast. The 10k runners split off near the mile 3 marker. The half marathoners continued on to loop into Vasona. By mile 5 I had gotten my pace under control and was feeling pretty comfortable. I stopped for a pit stop and fuel in the park and let myself drop to a race walk on a couple of the steep uphill sections. By mile 9 I was feeling a little sore but still strong so I started to bear down and pass people. The last 2 miles were very satisfying as I wove in and out between exhausted runners and leaned into my ankles for more power.

My goal for this race was to break 2 hours. Based on my most recent 10k time, Jack Daniels' Running Formula predicted 1:47. In my wildest dreams I imagined that I might run near 1:50.
My finish was at 1:47:47.
Cool.



| | | |
| --- | --- | --- |
| Date | Bob's estimated VDOT | event |
| 2001 | 31 | SV Marathon |
| 2002 | 33 | Wildflower 10k |
| 2003 | 42 | Wildflower 10k |
| 2003 | 42 | Jungle Run 1/2 marathon |

What does VDOT mean? Beats me.

I can tell you that I still have a way to go to get to the podium. For example: the Daniels VDOT table goes up to VDOT = 85.
An 85 is someone who runs a marathon in 2:01 or a 10k in 26:19. Yikes!

Examples of people I know:
Bryant's 2001 SV Marathon time of 3:07 means a VDOT of 51.
Charlie's (gym acquaintance) 2003 Phoenix half marathon time of 1:27 puts his VDOT at 53.

Here's the HR graph for the race: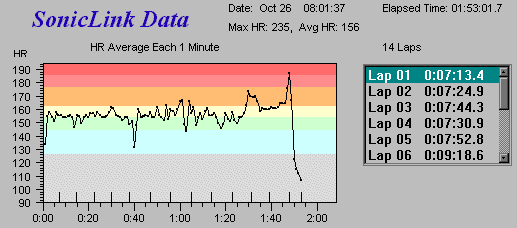 After some cool down and fruit scarfing, I walked up to the Los Gatos main drag and ate a chocolate croissant with Mary (who was waiting there after her 10k). BTW: Mary kicked some serious butt in the 10k with a 1:04:04 time, putting her 220 out of 398 overall and 20 out of 57 in her age division. I finished 31 of 115 in my division and 141 of 700 overall. Check the Jungle Run results for anyone you know - Angie Young for example.

Here are my split times: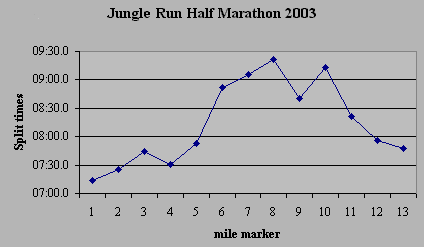 Here is how I did against the entire field: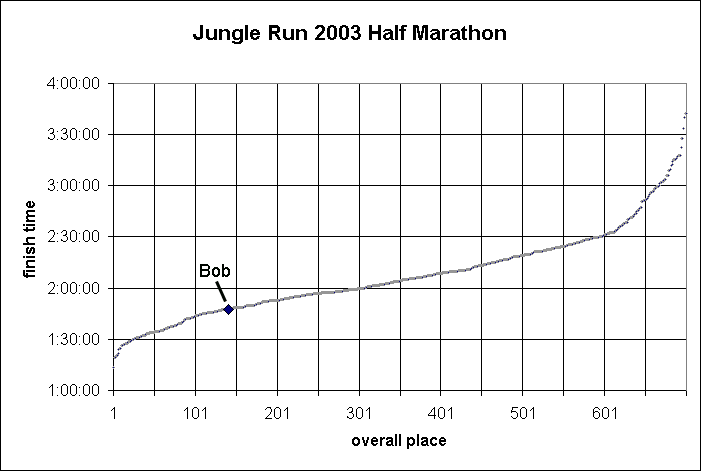 Bob

Home