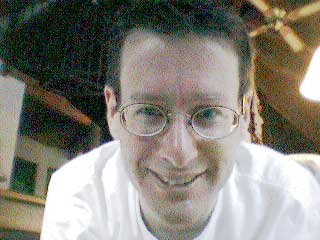 Bryant got a new Vaio portable with a built-in camera. He had some downloaded MPEGs of biathlon competitions and he displayed them on the TV at the cabin Saturday night. This is way cool - you can't see cross country ski competition on TV in the USA, but you can download the MPEGs and watch them on your computer - If you have the technology.
I drove up Friday morning and got in a couple of hours of very easy skiing at Auburn Ski Club (ASC) around noon. My training complete for the day, I drove over to Sierra Nordic to see what was on sale. I found a pair of Atomic RS10 skate skis with a nice coarse structure, 52 kg flex, and 170 cm contact length. I told them to prep the skis and to race-wax them for the Gold Rush. Next, I went over to Royal Gorge and registered for the race. A very nice meal at Dragonfly completed the day.

On Saturday, I drove over to ASC again to put in one final hour of skiing before the Gold Rush. After skiing, I spent an hour or so in their wax room. As I cleaned the bases, another skier came in to wax skis. It turned out to be SWIX wax technician/racer Andrew Gardner. We talked about waxing technique and he offered to put a final coat of a new SWIX high-flour wax (FC08, I think) on my old Rossignol skis after I put on a couple of coats of LF10. I learned a few new things about waxing by watching him work.

Now I had a decision to make: should I race on the most sophisticated wax job I had ever done (CH8 base, two coats of LF10, finished with FC08) on my beat up Rossis, or should race on a brand new pair of Atomic skis with a professionally prepared base and race wax (Rhode K72 high-flour)? The Atomics would be a big unknown for a big race - a very bad combination. Racing is never the time to try new equipment. But, the Rossis were in a sorry state. They were my first skis and they've suffered greatly at my hands (feet?).

Decisions, decisions...

Sunday (Race day): I got up at 5:40 am. I figured that I would have plenty of time to make and eat breakfast, pack up the car, drive over to Royal Gorge, and test skis before the race started. I ended up testing skis at 7:50 and only got to the start area with a couple of minutes to spare.

My crude glide test involved trying each pair of skis down a shallow slope to see how far they glide out into a flat section. The old Rossis went a couple of yards further down the flat than the new Atomics. Combine the glide test with the fact that I knew how to ski on the Rossis with my eyes closed (really. And in the dark, too) and the choice was clear: put the Atomics back in the bag and ski on the Rossis.

I'm sure the Atomics will be a fine ski for me next season. I may even get to use the spiffy wax job in a couple of weeks if the weather stays warm. It's not really surprising that the Atomics lost the glide contest - it's common knowledge that skis need to be waxed and skied dozens of times before they reach their full glide potential.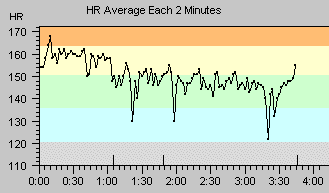 Here's my heart rate during the race. As usually, I started too hard and let my HR get to 168 in the first 15 minutes (Stage Coach hill).
Another big mistake was not fueling early enough. I should have been hitting the carbs just before the start and continuing to eat another 100 kcal about every 20 or 30 minutes. Instead, I waited until the end of the first lap (65 minute mark) to eat my first GU. This was probably a major factor in slowing me down for the second lap (1:05, 1:25, 1:22 splits). You can see that I averaged about 147 bpm for the last 2 laps. With proper fueling, I should have been able to maintain a 155 average and turn in a sub 3:30 finish. Of course, that would only have moved me up to 84th place...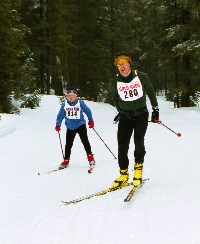 Here's a picture of me climbing the Maintenance Road hill on the first lap. I'm passing a Jr Rush skier. We're both pretty tired at this point. I'm trying to V2, but I have very little extension or forward lean.
I finished at 3:47:39 - just about what I had expected / hoped. Since survival was the primary goal of this 50k race (my longest, so far) I'm marking this one in the "win" column. You can check out my time in relation to the field at Far West Nordic Ski web site.

In summary:
Bob was 87th out of 94 finishers;
15 did not finish;
2 were disqualified (?);
Bob finished 15th out of 17 in his age division.
Race conditions:
an inch of new snow on a packed base
0C to +5C - very soft
rain - heavy at times
in short: miserable
Course Stats:
50 km (3 x 17k) long
811m total climb
My best strategy would have been to ski the Bronze Rush. (Isn't hindsight wonderful?) My first lap time of 1:05 would have been under 60 minutes had I skied the 15k loop at full speed instead of the 17k loop at marathon speed. A sub 60 minute finish would have put me around 15th overall out of 57 and 2nd in my age division!!!
Bryant skied the race on classic skis. He finished in 3:14:10, 75th overall and over 2 minutes ahead of Leland. As you'll note on the Far West Nordic web site, he finished first in the classic division (there is no classic division of the Gold Rush, of course).