The course not skied
(with apologies to Robert Frost)
This is the race that got me interested in XC ski racing. This is the race that I watched 2 years ago and said... well, never mind what I said. I was hooked.
I skied a single race of the 2000 - 01 season (the President's Cup) and couldn't (or wouldn't) get to another race for the rest of that season. This season, I skied several races. By the time St. Patrick's day rolled around, I was sated.
(OK, I chickened out. The weather was dicey and I just couldn't get the courage to register. And it didn't help that the start time is 8 am. I would have had to get up before 6 am to ski this race. Bob has standards, but apparently Bryant doesn't! )
The photo below is Bryant Tolles (Lone Clone cabin mate) finishing the full 50k Gold Rush. I took another photo that I would have put next to this one. It was way overexposed. Even the camera didn't think this was a good day.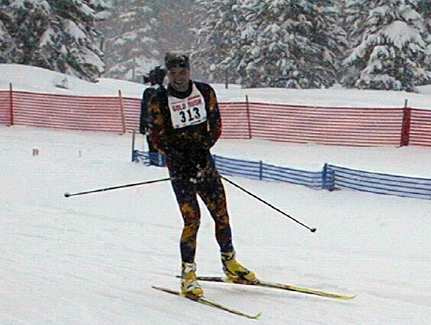 OK. Next year I will ski this race. Maybe only the Bronze (15k) or the Silver (30k) Rush, but I will ski the race (maybe when they move it indoors).
Scroll down to Bryant's 53rd overall finish at FarWestNordic.org