So I am finally sitting down to write my long awaited dispatch from my trip to China. I have spent the last three days after my return catching up on sleep, and getting all of my co-workers sick. But you're not interested in that. So, without further adieu

My flight over from SFO to Tokyo was uneventful. The only complication was an extremely large, and smelly, middle eastern guy two seats away from me ˆ every time he would lean forward and then back again it would emit this torrential WHOOSH of smelly air my way. I felt sorry for the lady who was seated right next to him. From Tokyo to Beijing I was surrounded by late-middle age Mormon tourists, with whom I exchanged pleasantries and had nothing further to say to.

Landing in China was bizarre, because, well, it was China. Kinda scary. The Chinese dress up their border checks a little more than we do ˆ there was an imposing gold and red sign that read CHINA BORDER CONTROL over the immigration checkpoints, and signs threatening dismemberment and raffling off of body parts if certain strict rules were not followed (ok, I'm lying about that part). All I really came for was the passport stamp, which I obtained.

The airport was as modern as one you would find anywhere, and the people at the information desk spoke English (which worked out well, as I don't speak any Chinese, and still don't) and scribbled the name of my hotel on a piece of paper for me to give the taxi driver. This piece of paper became my best friend during my stay. To this day I have no idea what it said, maybe take this western tourist for all he's worth (and, oh yeah drop him off at the Hilton afterwards)

My hotel was just like any hotel that you would find anywhere, which was what I wanted. Staff spoke English well, and the TV had CNN. Plus, the rooms had easily about 20 items that I could have seen myself walking off with (I ended up paying for two and stealing none, mom).

In the morning (Friday) I got up to work out. I had been told by several people that running outside was not possible due to smog, but I ran into some Chinese guy on his way out to hit the pavement, so I figured if he could do it, so could I. So China's first exposure to me was running in shorts with a yellow Boston Marathon t-shirt. Hit the well-equipped gym later.

After a trip to Starbucks (no kidding), it was time to hit the sights. I walked partially, and took the subway (the wrong way at first) down to Tianamen Square to visit the Forbidden City. After being accosted by two Chinese girls who were trying to sell me on a bus trip to the Great Wall (which I had already signed up for), I decided that I was French and from that point forward would wave off any interlopers with no engles. Part of their subsequent confusion might have stemmed from the fact that I was carrying around a Lonely Planet Guidebook which is fairly apparently in English (I can read it, just can't speak it). Other than that, there's not much that I could do about getting hassled ˆ a six-foot westerner sorta stands out there.
The Forbidden City was nice. Anyway, I immediately became consumed with souvenir purchases, and this pursuit dominated the rest of my stay. My best score was a Mao watch that had a mechanical arm for the portrait of Mao on the face of the watch that waved about once a second. I bought eight of them.

The next day I took a bus tour to the Great Wall and the Ming Tombs. What they don't tell you about these trips is that you are also shuttled to various souvenir shops, most of which resembled a large flea market. No surprise that I ran into some of my Mormon friends from the plane ˆ these Chinese know how to get money from Westerners. Three panda bears, two tea towels, and a Christmas ornament later, I was on the Great Wall.

The next day I rented a bicycle and rode around the city. My original intent was to visit Mao's tomb and then ride to the Summer Palace. I had to skip the first agenda item because I spent the entire morning riding around in circles (wasn't paying attention to the map) looking for an ATM that would accept my card. Flush with cash and a Big Mac (I confess), I headed out to the Summer Palace, which was about 5 miles away. The Summer Palace was nice.

That was about all for China. The next morning I took a taxi to the airport and hopped on my flight home. I thought it was a direct flight, but it turned out to have a 5 ? hour layover in Tokyo, which I took full advantage of. US passport holders can get into Japan without a visa, so I decided to pay a brief visit (and get more cool passport stamps). Here is where souvenir madness really hit me. I had what I call a never be back panic attack, and started buying everything in sight. I now am the proud owner of 3 tubes of Japanese toothpaste.

Well, that's about it. I've decided that it really is pretty easy to pop over to Japan (10 hours over, 8 hours back), and would like to do it again some day for a long weekend.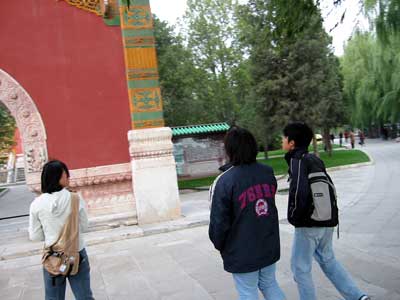 Hey - it's Allen Iverson!!!
Well, my trip had absolutely nothing to do with skiing, but since I posted a while ago asking whether I should bring my rollerskis, I thought that I'd follow up and let you know how things went. By the way, going on advice from John Double-Name and others, I left the rollerskis at home. Good call. Here was my training program while in CHina:

Friday 10/25: Half hour run on streets of Beijing. I was staying at intersection of the third ring road and the Airport Expressway, for those who know and care. The point is that the roads around there aren't so clogged with cars that I couldn't make a go of it. Underdressed because I didn't bring clothes to run outside. People told me it couldn't be done, but then the first morning I'm there I see a guy (Chinese guy, so I figured he knew better than me) walking out the hotel lobby in his running gear. If he can do it, I can, I thought. More rationale: millions of people ride bicycles around the city each day, so it can't be THAT polluted; also they're having the Olympics there in 6 years, how are they going to run a marathon in a city where you're not supposed to run outside??? Following my run, 1 hour of lifting with a bunch of other westerners in the well-equipped hotel gym. Plenty of walking around Forbidden CIty and Tianamen Sq.

Saturday 10/26: ONE HOUR of running on the streets of Beijing. If you were walking in the crowd that day, I was the 6 foot tall western guy in shorts and a Boston Marathon long-sleeve t-shirt. Took bus trip to Great Wall, half hour of hiking (I'm seriously considering putting it in my training log) and stair repeats (ok, I'm kidding about that part). Snow on ground at Great Wall.

Sunday 10/27: Sick of being stared at outside, I hit the stair climber for 1/2 hour and then lift for an hour. Rented a bicycle and rode down to Tianamen Square in a vain attempt to see Chairman Mao's corpse. On the way tried to find bar that supposedly would be showing the world series. Couldn't find it. Spent next hour trying to find ATM that would take my card. Got money, ate at Mickey-D's and then rode bike up to Summer Palace. 40 degrees out. Winter is coming!!!

Monday 10/28: Fast half hour run on treadmill at hotel. Almost kill myself because I'm not used to those things. Hit the airport for long trip home (so long, that it's still Monday!!!!) bt